Some people, when they think of pizza, automatically envision cheese and pepperoni topping.
Or mushrooms, peppers and onions.
Or plenty of plain cheese on top of tomato pizza sauce.
Recently, I tried some Greek pizza. While it was quite delicious, there was very little of each ingredient.
So I decided to try my hand at making it at home. At the supermarket, I found a mound of pizza dough in the frozen food section.
After defrosting it, I rolled it out in an oiled pan.
Then, I grated eight ounces of feta cheese and sliced several sweet baby tomatoes.
A package of spinach was defrosted, squeezed out and sprinkled with some garlic salt.
Setting the oven at 425 degrees, I spread the the cheese onto the dough. Then, the spinach and tomatoes were added.
The pizza baked for 20 minutes. It was absolutely delicious. The spinach and tomatoes melted into the feta cheese, making for a tasty treat.
It's definitely a pizza that will be made around here again!
Today we are joining Thrift Things Friday over at Diann's blog, The Thrifty Groove.
Making the pizza shown in this blog is definitely more thrifty than buying it from a pizza restaurant!
Stop by Diann's blog as you will find many really super ideas from other bloggers.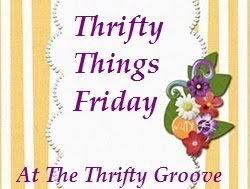 WHAT IS YOUR FAVORITE KIND OF PIZZA?